NJ Online Casino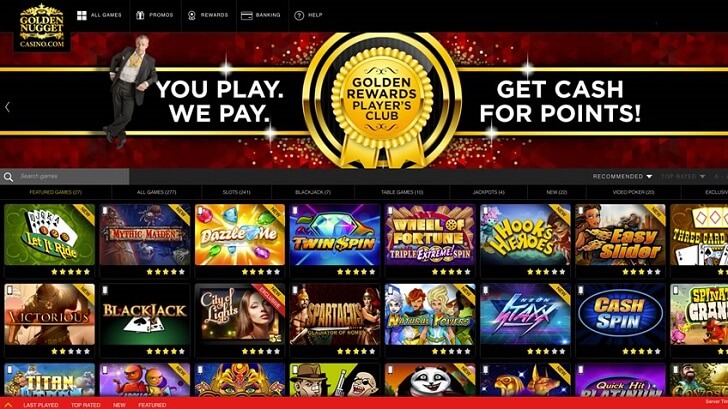 Our NJ Online Casino article is your top source for the best, legal, entertaining, and lucrative online casinos for playing in New Jersey.
We are the most trusted source in the industry if you are looking for completely legal, safe, and regulated online gambling entertainment. Don't be fooled – there are thousands of offshore online gambling sites out there that operate out of various international jurisdictions and claim to offer gambling entertainment in New Jersey. They are all illegal, and in worse cases, conning you into parting away with your money. We are fully compliant with the online casino NJ regulations and therefore, are bound by the local laws to provide you with trustworthy and verifiable information. Ready to start your online casino adventure?
Best NJ Online Casino | Best Legal Online Casinos in New Jersey
Golden Nugget NJ Online Casino : 100% up to $1.500
Virgin Online NJ Online Casino : 100% up to $100
Tropicana NJ Online Casino : 100% up to $100
Caesars NJ Online Casino : 100% up $300
888 NJ Online Casino : 100% up to $2.000
Play NJ Online Casino : 100% up to $1000
Borgata Online Casino New Jersey : 100% up $600
Betfair NJ Online Casino : 100% up to $2.500
Party NJ Online Casino : 100% up to $500
Mohegan Sun NJ Online Casino : 100% up to $1000
Resorts Online Casino NJ : 100% up to $1000
Harrah's Online Casino NJ : 100% up to $300 + 20 free spins
Scores Online Casino NJ : 100% up to $500
Sugarhouse Online Casino New Jersey : 100% up to $250
Hard Rock Online Casino New Jersey : 100% up to $1000
Poker Stars Online Casino NJ : 100% up to $400
BetAmerica Casino NJ : 100% up to $500
Ocean Resort Casino NJ : 100% up to $1.000
Draftkings Online Casino NJ : 100% up to $500
Pala Online Casino New Jersey : 100% up to $500
Online Gambling NJ Legal
Of course, the first thing on your mind is probably the question – is online gambling legal in New Jersey?
The answer is a resounding YES!
NJ Online Gambling
It was in 2013 that New Jersey made online gambling legal. The then-governor Chris Christie passed the law legalizing online gambling in early 2013. By the end of the same year, it was passed by the NJ Senate and Assembly. Officially, online gambling in NJ became legal on November 26, 2013. However, the legalization came with a few caveats.
Firstly, online casinos are required to pay 15% of gross gaming revenue in taxes, compared to the 8% that land-based casinos pay in Atlantic city. Secondly, only Atlantic City land-based casinos are allowed to launch and offer online casinos to customers in New Jersey. This is to promote the industry that was previously shrinking. Thirdly, all game servers that host online gambling must be located inside Atlantic City.
All casinos, be it online or offline, operating in NJ are regulated by the New Jersey Division of Gaming Enforcement.
Why Should You Play Only On NJ Legal Online Casinos?
There are many reasons why you should enjoy online casino entertainment on NJ legal sites. For starters, online casinos that do not come under the purview of New Jersey's jurisdiction are not obligated to follow the laws of the state. Every year, international online casinos steal millions of dollars from unsuspecting Americans, and there is nothing anybody can do about it, as these casinos are not governed by the laws of the US. So, if you want to keep your money safe and enjoy a quality gambling experience, then stick to online casinos that are regulated by New Jersey's laws.
Secondly, if you play on international online casinos, you might incur a significant currency conversion fee like 4% or even higher. That's the money that you could have spent on wagering and betting on the casino but ended up being wasted for nothing. So, stick to NJ based online casinos that allow you to transact in USD.
The good thing about NJ is that you don't have to be a resident or a citizen of the state to enjoy online gambling. Even if you are visiting the state, you are free to entertain yourself on NJ online casinos.
Online Gambling NJ Sports Book
NJ Sports Betting is a relatively recent development. Not all online gambling players are entering this space right now. Only a handful of online casinos have currently launched sportsbooks on their websites. Some of them have known to be secretly working on launching sportsbooks of their own soon, but there's no clarification on how soon they intend to start offering sports betting on their sites.
The good thing is, whenever that happens, you can be sure that we'll bring all the top NJ sports betting sites to you.
Online Gambling NJ Reviews
When you sign up on an NJ online casino, you must consider a variety of factors before taking the step. After all, you'll be entrusting that casino with delivering high-quality entertainment for you, and maybe even depositing hundreds of dollars into your gambling account, it's imperative that you know about your chosen casino in detail. For instance, are they licensed and regulated in New Jersey? How many games do their offer? What games do they offer? Are they running any promotional offers? What kind of odds do they offer? Questions like these and many more should be answered.
Now, where do you find the answers to all these questions? The answer is Online Gambling NJ.
We'll share our honest and detailed reviews on each of the legal NJ online casinos. So, you'll have a clear and complete picture of which casino offers what. Then you can make an informed decision as to which online casino is better for your gambling experience.
Online Gambling NJ Real Money Bonus
Signing up on a new online casino? Then you are eligible for an exclusive bonus on your first deposit on any of the casinos listed on this page. We bring you real money bonuses, which you can use to wager and bet on your choice of NJ online casinos. In some cases, we even bring you no-deposit bonuses. In this case, you don't even have to make a deposit on the casino to get a bonus. You just register on their website, and you immediately find the bonus money on your account. How cool is that!
NJ Online Casino Games
NJ online casinos offer casino games galore to their players. There are hundreds of games available for the entertainment of the players. They can experience and enjoy every kind of casino game that they would find at a physical gambling establishment in Atlantic City. Here are some of them:
Slot machines are a common sight at any casino you visit in Atlantic City. These days, you don't have to plan a trip to Atlantic City to enjoy fantastic slot games. Just buckle yourself up, visit an NJ online casino and enjoy hundreds of slot games right from your home.
 There are 2D slot games, 3D slot games, and even progressive slot games that offer massive jackpots for the really lucky winners. 
Enjoy a full gamut of table games on a vast number of NJ online casinos. Delight yourself with roulette, baccarat, blackjack, craps, and their several variants. That's right, there are tons of variants of these standard table games, and they are all available on NJ online casinos. 
Take your poker gaming skills to a whole new level with video poker games that push the boundaries of quality digital graphics. The enthralling experience that they offer is sensational. 
Experience the most authentic and realistic gambling experience in the virtual world with live dealer games. A live human dealer hosts your favorite casino games, so that you can enjoy the games with them face to face. In fact, some of the live dealer games even allow you to enjoy them with other live players. It simply can't get any better than this.
Mobile Online Casino NJ
Most online casino games are built using one of two technologies – Adobe Flash and HTML5.
The games that are built using Adobe Flash can only be played on compatible apps. Casinos typically have web apps behind their websites to support these games. So, you can play them on a desktop browser. However, they are not compatible with mobile browsers, which means that you'll have to download a compatible app to enjoy Adobe Flash-powered games on your mobile devices.
HTML5 casino games are wildly popular because they can be played on a variety of platforms – desktops, mobiles, and tablets without using any specific app. As long as you have an HTML5 compatible browser, you can enjoy these games on it.
To ensure that the players can enjoy all these games effortlessly, most NJ online casinos offer dedicated apps for Android and iOS devices. You just download these casino-specific apps on your device, and you can enjoy all their games on the go. You can even configure and personalize your gambling experience on your apps.
NJ Online Casino Security
Online Gambling in NJ is regulated by the New Jersey Division of Gaming Enforcement (DGE), one of the world's foremost regulatory body in the online gambling industry. They impose extensive compliance requirements on casinos that are regulated by them. These compliance requirements cover a vast variety of aspects, including the security of data, banking security, player verification, and data storage guidelines. Players' information is encrypted using the latest SSL technology, and they are verified using layered systems.
All players who engage with DCE regulated casinos, i.e. legal NJ online casinos, are fully protected by these legal provisions. What's more, they are also protected by the US's strict data safety, and financial security laws.
Conclusion
Online Gambling in New Jersey brings all the glitz, glamour, and gambling fun of Atlantic City casinos to people's homes and devices across the state. Now, you can enjoy thrilling casino adventures right from your own home, from the comforts of your own couch. The best part? Everything you do is completely legal, and you are fully protected by the country and state laws.
Remember. Online Casino USA is the name you trust to bring you quality online gambling entertainment.  
Comments
comments